God Always Brings Good Out of Bad
By June Klins
Recently, I was asked how I got involved in Medjugorje. I have shared parts of my story before, but never felt prompted to share the whole thing until December 8, 2013, as I was praying near the statue of Our Lady in our Adoration Chapel.
My life changed forever on November 9, 1995. That was the day my father-in-law took his own life, after having lived 45 years with constant phantom pains from an amputated leg. My family, which to this point, had been the storybook family (or so we had been told) fell apart from all the anger and hurt. The following year was the worst year of my life – I cried enough tears to fill a small pond. My mother suggested that I pray the Rosary, so I took out my First Communion rosary which was buried in my bottom drawer, and began to pray with it again.
Three months later, a priest at the school where I taught part-time, offered to say a Mass for my father-in-law. It was after this Mass that I decided to go to Mass a few times a week that year for Lent. I quickly got addicted and found myself going every day. The Rosary led me to daily Mass. Our Lady always leads us to Jesus!
Things began to improve somewhat and, in gratitude, I decided to visit some patients in a nearby nursing home that year on Christmas Eve. One of the patients I visited was non-responsive, but her roommate, who had Alzheimer's, kept talking to me, but made absolutely no sense. All of a sudden, she looked me right in the eye and said, "You don't have to worry about anything anymore. God is taking care of you." I could not hold back the tears. I knew that God was speaking to me through her.
Less than three weeks later, on January 11, 1997, my husband and I were walking in our local mall, when my right foot went numb. Minutes later, both my hands went numb. I thought I was having a stroke, so we went home and called the doctor. The doctor who was on-call that night called back at about 10 P.M. and said not to worry. The next day, I noticed on the caller-ID that the doctor had called me from the same exact nursing home where that lady told me not to worry. What are the chances of that? What doctor visits nursing homes at 10:00 P.M. on a Saturday night?
After three weeks, the numbness, which was in both hands and now both feet, went into a burning sensation that was excruciating. At its worst, which was most of the time, sitting comfortably was even a challenge. Sometimes I would even begin to shake uncontrollably because of the intense pain. During all this time, as my symptoms baffled doctor upon doctor, my family and friends continued to pray for my recovery.
The following year, my mother's friend sent her a medal of Our Lady of Medjugorje to give to me. Five days after I had received the medal, Our Lady led me to an answer through the Internet. As I had suspected all along, my problem was a hormone imbalance. This condition is known as "estrogen dominance," and is a widespread problem today because of the exposure to so many chemicals. That day I began using a topical natural progesterone cream, purchased in a health food store, and the healing process began that very night. By the end of the week I was able to walk up and down every aisle in the grocery store – something I hadn't been able to do for a year. I knew that it was Our Lady who pointed me in the right direction, especially when I realized that the day my mother gave me the medal was January 11, 1998 – exactly one year after my problems began.
For Valentine's Day that year, my husband had given me his bonus check from work and said that I could use it for my mother and I to go on a pilgrimage. By that point I was on my way to recovery, and I wanted to go and give thanks for my healing. My husband thought it was too dangerous to go to Medjugorje at the time, so I did not even consider it. We were mostly interested in Guadalupe, Fatima, Lourdes, and Betania. After all, it is the same Blessed Mother! However, every time we would find a pilgrimage that looked good, it was either full or cancelled. This kept happening over and over. I stopped looking, though, when my mother came down with a strange virus that affected her vision and we had no idea how long it would last. I just felt it was not in God's timing.
In May of that year, our son was going to be graduating from basic training at Ft. Benning, Georgia. Since the graduation date was a few days after Memorial Day, and I was doing so much better, we decided to make a little vacation of it and go to St. Augustine, Florida for a few days. I felt a calling to go there because my mother kept sending me information on the little Marian shrine there – the oldest Marian shrine in the United States.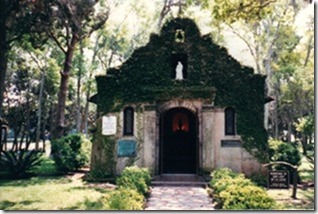 Our Lady of La Leche Shrine
On the Sunday before Memorial Day, we visited the shrine, which is called "Our Lady of La Leche." We went into the little chapel and I filmed it with our video camera. Then we walked around the rest of the mission grounds, taking in its beauty and historical significance.
Later on that evening, it began to bother me that while I was at the shrine, I never lit a candle for my mother who was having a problem with her eyesight, nor did I even say a prayer. So I asked my husband (who is not Catholic) if we could go back to the shrine again before leaving for Georgia. He graciously agreed. We decided not to go until Tuesday though, because there was a festival on the mission grounds, and we wanted to go when it was more peaceful.
When we arrived at the shrine that Tuesday, we were the only ones there. But when I went over to the religious store adjacent to the shrine to purchase a candle, a man and a woman walked into the shrine and sat down.
After I went back to the shrine, as I was lighting the candles, the man said to me, "Have you ever heard of Medjugorje?" I proceeded to tell them about the medal I had received from my mother's friend and about my healing. After I finished my story, the woman reached into her purse and gave me a gold medal with a beautiful picture of Our Lady on it. She told me that the medal was from Medjugorje and it had been blessed by Our Lady during one of Her apparitions. Then the man told us about the time that Our Lady appeared right there in the shrine when visionary Vicka was visiting. He showed us his rosary which had turned gold, and told us he had seen the sun spin, and had even video-taped it. He said to me, "Don't be surprised if your rosary turns gold." Then he invited me to pray the Rosary with them, since the reason they were there was for their weekly prayer group. After the Rosary, he remarked that it was odd that only two other people had shown up that day, when they usually have 15 or 20. In hindsight, I think that it was all part of God's plan. If the others had all shown up, these people might not have ever spoken to us.
An hour or two into our ride to Ft. Benning, my husband said, "Take out your rosary, and see if it turned gold." I was flabbergasted when I saw that my rosary had, indeed, turned gold! I couldn't help but wonder why this had happened.
After we came back from Florida and Georgia, my mother's vision was improving (maybe because of the prayers on our second trip to the shrine), so I began to look into pilgrimages again. I got on the Internet, and found a pilgrimage to Fatima, Lourdes, Medjugorje, and Rome that sounded enticing. I e-mailed and asked about it, and a woman named Sandy sent me the phone number for the travel agency. As I had suspected, it was full. I wrote to Sandy and told her to keep me informed of any future pilgrimages. A few days later, Sandy wrote and told me that the travel agency was going to try to see if my mother and I could go on just part of the pilgrimage. It never occurred to me that you could go on part of a pilgrimage. That afternoon, a woman from the travel agency called and said, "Sandy and Fr. Ken are pressuring us to find two seats to Medjugorje for you and your mother." I could not believe my ears! I had never even communicated with Fr. Ken! I knew in my heart that we were supposed to go on this trip, even though we had never even considered going to Medjugorje in the first place. How could I say no? (I felt more at ease about going there at this point, because when we were at Ft. Benning, I had read an article in the base newspaper about how peaceful it was in Bosnia since the war ended.) I called my husband at work and then my mother. Soon after, a man from the travel agency called back, and said he already had us booked on the flights! This was before I confirmed anything with the agency! Good thing we had already gotten our passports, because the pilgrimage was only two weeks away! I hung up the phone wondering why we were booked on this flight. Why were we invited to Medjugorje? What did Our Lady want of me?
At this point, I really did not know a lot about Medjugorje, but I did know, from the little reading I had done, that miracles occurred there. I went to Medjugorje expecting to see a lot of miracles because it was anniversary time. Soon after we arrived, my mother's rosary turned gold. On numerous occasions, most everyone in our group saw the sun spin, but neither of us did. We were not disappointed though. We both felt we were at the edge of Heaven; the peace we experienced was indescribable, and we did not want to leave. We both cried as the bus pulled away from St. James.
This pilgrimage had been such a blessing, but what did Our Lady want me to do with this awesome gift? Although I did not realize it at the time, the plan began to unfold on our first full day in Medjugorje. When we went to visionary Mirjana's house to hear her speak, a man I did not know walked up to me and asked me why I was not taking notes. He said, "You are a teacher. You should be taking notes." I asked the man how he knew I was a teacher, and he replied, "I don't know. You look like a teacher." From that point on, I took notes at every talk we attended.
When I returned home and told my story to a lady at church, she gave me a copy of
The Spirit of Medjugorje
newsletter, and suggested that I send in my testimony. I had never even heard of
The Spirit of Medjugorje
, even though it had been published in my city since 1987. I sent in some of my writings from the notes I took in Medjugorje. A few days later, the editor, Joan Wieszczyk, called and wanted to meet me. She began using my articles in almost every issue. I went back to Medjugorje the following year and gathered more material for the newsletter, and continued to write.
In 2001, Joan made me co-editor and asked me to take over as editor if anything ever happened to her. In 2002, she suffered a heart attack and the newsletter fell into my lap. After her heart surgery, Joan made a pilgrimage to Medjugorje to pray about her retirement. When she returned, she made it official and I became the editor.
I am so grateful that Our Lady healed me and invited me to Medjugorje and then asked me to help Her to spread Her messages. In my gratitude, I began to try to live Our Lady's messages as best as I could. I could fill a book with all the wonderful blessings I have gotten over the years. Of course, I have had my share of trials, but the lessons I have learned through Our Lady have helped me to deal with them.
One important lesson that I have learned is that God always brings good out of bad. For example, my father-in-law's suicide, which was devastating to our family, became a catalyst for my conversion. Suffering can make you bitter or better. Thanks to Our Lady, it made me better. And then through my new Medjugorje friends, I learned about Gregorian Masses, and had them said for my father-in-law. I later received a sign that he was safely Home. Isn't that awesome? God always brings good out of bad. I will always be grateful to Our Lady of Medjugorje.
Editor's note: In 2011, I started a group to pray for those who are suicidal and the souls in Purgatory who have committed suicide. You can visit the website at https://sites.google.com/site/divinemercyforlostsouls/.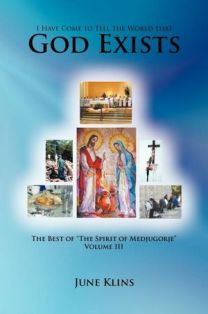 18 Reviews. All 5 Stars!
I Have Come to Tell the World that God Exists
Review by WV Gal
Thank you June for this Masterpiece!
Thank you June, you have rekindled, in my heart, the fire for Our lady's messages so much after reading this book that I am working out the details to start a Prayer Group devoted to spreading/sharing and living Our Lady's messages! I started with this lovely book and I am now reading the rest of your books!! Thank you so much and God bless you!!!
Can be ordered from Amazon. By clicking below you will be taken directly to the book
http://www.amazon.com/Have-Come-Tell-World-Exists/dp/1467068578/ref=tmm_pap_title_0?ie=UTF8&qid=1322377874&sr=1-4
Kindle Version
http://www.amazon.com/Have-Come-World-Exists-ebook/dp/B0080CUYP6/ref=tmm_kin_title_0?ie=UTF8&qid=1322377874&sr=1-4
Can be ordered from Barnes & Noble. By clicking below you will be taken directly to the book
http://www.barnesandnoble.com/w/i-have-come-to-tell-the-world-that-god-exists-june-klins/1107735791?ean=9781467068574&itm=1&usri=best+of+spirit+of+medjugorje+volume+3