Featured article from March's Spirit of Medjugorje
"She Will Not Disappoint"
By June Klins
On January 24, 2017, MaryTV (www.marytv.tx) aired the testimony of Rick Hess on its "Fruit of Medjugorje" program (#249). My summary of Rick's story will not do justice to his heartfelt witness, so if you get a chance, please watch it.
Rick introduced himself as a 45 year-old former computer programmer from Madison, Wisconsin. He was raised Catholic, but over time had fallen away from the Church, and had become very materialistic. He said that he had also become very self-centered as a result of reading self-help books.
At one point, Rick was dating a girl who had no faith, and although he had fallen away from the Church, something made him start praying the Rosary for this girl. When he got transferred two hours away, he began praying the Rosary all the way up and all the way back, for her conversion. "Well, it got me thinking about Mary quite a bit," Rick said. "The Rosary – it's scriptural – it's the New Testament on string." Rick ended up ending the relationship with this girl, but Mary was always on his mind.
Soon Rick heard about Medjugorje from his mother, and felt a tug in his heart to go there. Rick felt it was through the Rosary that he kept getting this call. "I didn't know why, and I didn't know for what. I didn't think I needed anything … I thought I knew all there was to know about the Church." He felt called to go in November of 2009, and chuckled that he originally thought he would go in February, because being materialistic, February is cheaper.
Rick found the week before he left to be very difficult. So many reasons not to go kept coming up, and he would have cancelled had it not been for that "tug from Mary."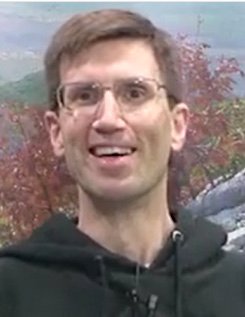 Rick Hess
The first couple of days of his pilgrimage, Rick questioned, "Why am I here? What can I possibly learn here?" Then on his third day, he went to Adoration. He was so impressed with the thousands of people praying before Our Lord. "They were praying with such profound love, and it was cold outside. It was cold; it was raining." And he saw how the people did not care. He started praying for God's love. He prayed so hard that he shook. "And all of a sudden, I had this vision, and it was of my soul. And He showed me a vision of what He created my soul to be, and it was this ball of light, and it was so beautiful, and so pure with love and light. And it was just this brilliance, radiance coming through Him. And I was led to believe that this is His grace coming through us (motioning). And He showed me what happens as we sin. And as we sin, it's like splotches get splattered on its soul, where light can no longer go through. And then He showed me a picture of my soul. It was pitch black. There's no love, no light coming through it." Rick sighed, "And I thought I was doing fine." "And he showed me what happens in Confession. In Confession, all that gets polished off and cleaned, and it's a brilliant ball of light again."
After that, Rick could not wait to go to Confession. It had been over 20 years since his last Confession. "I didn't think I needed it. I always figured – I knew in the back of my mind I should go – but I had rationalized my sin. I thought that Jesus would forgive me, but He made it clear that evening…" The next day Rick headed to the confessionals. "I've never seen so many people in line for Confession. Everywhere I looked there were just hundreds of people in line for Confession." When he walked into the confessional the first thing the priest said was, "Welcome home!" When the priest gave him absolution, "it was like the first day of my new life. It was like there was so much freedom in that feeling. It's like I couldn't love Jesus enough. I wanted to get out on the rooftop and just tell everybody about this place and about how much love there is."
When Rick got back home, after a few weeks he felt the grace "had worn off," and he got into a bit of a rut. But the following November, he got called to Medjugorje once again. At first, he again began questioning why he was there. Then on the third day, he went to Adoration. This time he was praying for a woman in the group who had recently lost her father. He prayed so hard for her that he shook. He wanted to know if her father had made it to Heaven or Purgatory. So he asked, "Is her father OK?" He prayed, "I will suffer whatever I need to suffer for that soul to get her father into Heaven." Then he heard a subtle voice say, "Nothing further is required." He thought it was his imagination, but he heard the same voice say, "No." He asked this three times and got the same answer each time. After the third time, "it was like this big entire infusion of grace overcame my entire body, and I felt love like I never felt love before." Rick said he saw things from God's perspective. "It was like we are all connected through His Mystical Body of love, and if another soul is hurting, we're hurting, too. And that's why we need to pray for each other, and that's why we need to suffer for each other."
Rick thinks his experience lasted just seconds, and then he felt a bolt of heat go into his back. "It ripped (gesturing) into my soul and it felt like …fingernails on my skin. It ripped so hard." "I was on my knees, shaking, praying, begging for His forgiveness – for all my sins, for everything that I've ever done to Him, all of the stuff I had forgotten about, for all the things, times, He wished me to do something and I ignored Him, for all the times I knew better, all the times I rationalized my own sins. It's like I couldn't beg for his forgiveness enough." Rick continued, "And the only thing he showed me was love. It was the most incredible love I've ever experienced in my life. Words cannot describe it." Rick knew at that moment that he needed to change his life.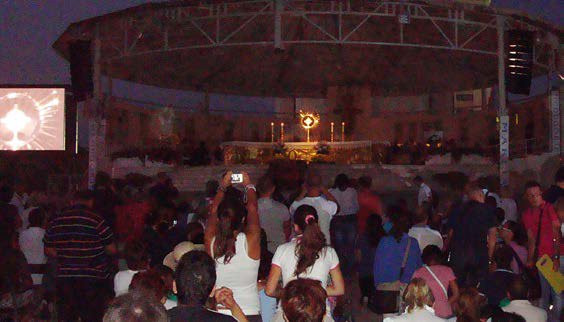 Adoration in Medjugorje
When Rick got back to Wisconsin, he began praying the Rosary every day and going to daily Mass. He said that cleansing the "gunk" out of his soul was not easy. "It's like surgery, when you have to face the reality of your own sins." "But," he added, "Jesus does it with gentle love."
Rick got called back to Medjugorje the following October (2011). "That trip was special. Mary – She taught me how to love Her Son. She taught me how love is sacrifice." He attested, "If you ever want to know how to love someone, who better than a mother, because there's nothing like a mother's love. And She's so gentle and She's so meek and so humble. And She won't go where She's not invited." He added, "We must always invite Her into our hearts, and She will not disappoint."
Every morning in Medjugorje, Rick would get up and ask, "What would You like me to do?" The last day he was there, he was up on Cross Mountain early in the morning. "I was just like a little kid five years old – I was just so full of love for Him. 'What do you want me to do next, Father? What do You want me to do next?' And all I heard was 'priest.' I looked around. I kind of freaked out a little bit. I said, without even thinking, 'I know that already, but what do You want me to do next?' Three times – 'priest.'"
"It took the grace here to get rid of my bullheadedness, my stubbornness, for Jesus to get through to me... He'd been calling me my whole life, but I never listened. There's something special here. It's so filled with grace."
When Rick returned, he called the vocation director of his diocese. He studied in the seminary for two years until they asked him to take two years off because he was "too private in prayer."
Rick continued to work on his philosophy degree and continued to return to Medjugorje. "I kept coming back here because there's so much love and peace here and you keep learning. Every time I come here, I learn something more. It is so peaceful here, and every time I come with a group of people, I see the same thing – I see them come with loads of luggage on their arms. I see them leave on fire with the Holy Spirit."
While he was on Cross Mountain that last trip, Rick found out why the diocesan route was not working out. As he was praying for other people, he heard a voice say, "Franciscan. That is the question you wish to ask me." Rick said that in his heart he did want to ask that, but had not, because he was busy praying for other people. "He knows what's in your heart. That the best I can put it – before you even ask."
"There's a peace here that I don't experience anywhere else…You know, I feel the Holy Spirit very powerful here." I do know it's that the messages of prayer, fasting, Scripture reading daily, Confession and Holy Mass – this is Catholicism. I see the thousands of people in Adoration praying… I see the thousands of people in Confession. I read all of Her messages and Her messages are all about love and fasting. And I learned about love from Her. Love is sacrifice."
Rick explained that if you want to learn about someone, it would be incomplete unless you experience what that person experiences. "That is why we fast. That is how we love. Jesus is all love. He sacrificed for us. When we deny ourselves, when we fast, we sacrifice. We are teaching ourselves that our soul is in charge of our body and not the other way around. (And believe me – five, six years ago I thought the other way around.)." He continued, "When we fast, when we deny ourselves, that's exactly what Jesus did. He gave Himself completely on His way to the Cross. If Jesus is love, and we want to understand Him more completely, we do that by experiencing His sacrifice of denial of self. When we do that, when we fast and deny ourselves, and suffer for other people, we're learning about Jesus more completely. Jesus is all love. So we're growing in love deeper. That is what Mary taught me here. That is what She taught me about loving Her Son, about how to love Her Son – with your whole body, and your whole being."
"That's what Medjugorje is about. Whatever the Vatican says about the apparitions, I'll believe. You know it is what the Holy Spirit wishes for. I don't even think about that stuff. You know, I'm thinking, if I'm going to be a priest and I come here and I see those thousands of people praying in Adoration, see those thousands of people going to Confession, I'm going to ask how they're doing it. I mean honestly, how are you doing it? I go back to the United States and I see the Adoration chapels empty. Here they're by the thousands, and not just once in a while. It's three, four times a week. You can't get in there enough. You can't get room."
"You know, I feel so at peace here, that nothing else matters. Nothing else matters. I come here as much as I can to get 'juiced up' on the Holy Spirit. And you just want to share it with the whole world. You want to hug Mary and you want to thank Her for everything. And you want to just thank Jesus for everything – because you can never thank Them enough, because you don't deserve any of it."
Rick said that every trip is different, and that on this one, "I learned how to accept my faults better, that Jesus can still work through me with all my faults. And sometimes it's hard to believe it, because Satan does a wonderful job of pointing out all our faults. And now I just say, 'Thank you, Jesus. Thank you for the lesson in humility.' And you just want to love everybody. You want everybody to experience His love in the way that I have here (and everybody else and thousands of pilgrims here). You wish you could just inject it in people. But you have to surrender. You have to surrender and be open to it, because Jesus will not interfere with your free will. It is a gift. So when you come here, you have to just open your heart and say, 'Teach me, Father. Help me, Father. Help me understand where I need to change. Help me, Mary, understand how to love Your Son.' And She will not disappoint."