Featured article from September's Spirit of Medjugorje
St. Mother Teresa and Our Lady of Medjugorje
In May of 2008, Dr. Mark Miravalle spoke at the Notre Dame Medjugorje Conference. Since Mother Teresa has now been officially canonized a saint (September 4), it seemed like a good time to revisit an encounter Dr. Miravalle recounted that he had with her.
"On August 14, 1993, I had the unmerited privilege of going down and spending a couple of days with Mother Teresa. She had asked for presentations to her Sisters of Charity on the proposed 5th Marian Dogma of Co-Redemptrix, Mediatrix and Advocate, and in the few days down there, I gave six presentations on the 5th Marian Dogma, two of which Mother herself sat in. And no, I wasn't nervous at all (laughter)! It was particularly difficult when she went for the second one and I said, 'Mother, I'm not coming up with new material here.' During that time, I went and sat with Mother outside her office in Calcutta, and above her desk area was a picture, a calendar actually, of Our Lady of Medjugorje. And I said to her, point blank, 'Mother, do you believe in Medjugorje?' and she gestured to me as follows, putting her finger over her lips as if to be discrete. But she said to me, and I quote: 'I asked Our Lady of Medjugorje to come to the first home for the dying in Calcutta and She did.' Now I, unfortunately, did not have the guts to ask her, 'How did She come, Mother?' But she left it with that, with a great big smile on her face."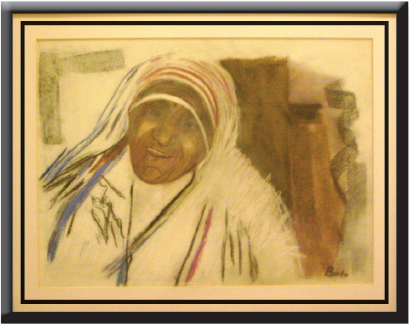 Painting of St. Mother Teresa in the art museum in Humac, near Medjugorje

Mother Teresa's Humility List
1. Speak as little as possible about yourself.
2. Keep busy with your own affairs and not those of others.
3. Avoid curiosity.
4. Do not interfere in the affairs of others.
5. Accept small irritations with good humor.
6. Do not dwell on the faults of others.
7. Accept censures even if unmerited.
8. Give in to the will of others.
9. Accept insults and injuries.
10. Accept contempt, being forgotten and disregarded.
11. Be courteous and delicate even when provoked someone.
12. Do not seek to be admired and loved.
13. Do not protect yourself behind your own dignity.
14. Give in, in discussions, even when you are right.
15. Choose always the more difficult task.